Today has been a really good day. We slept till 9ish. Got up, got dressed and headed to Mandeville. I love Mandeville. We used to live there. Sadly the apartment we lived in was horrible! Any hoot...We had a wonderful time. We stayed in Barnes and Nobles for about 2 hours or more. I got to update my Nook (YAY) and downloaded a bunch of new books. The kids all had their money on hand and was ready to do some shopping. DJ bought some bug binoculars, a super hero coloring book with colors included and a shark book.
Emilee got
and
Pirates Past Noon (Magic Tree House Series #4)
She loves this series!
Kaylee got a cute all about me diary that she filled in all day long. Its really cute with questions to fill out about all sorts of things. I am sure in years to come that it will be nice to look back on and read what she was into then.
David was so funny at the book store. He is normally into dragons, fighting etc books but this time for someone reason he took a different turn. I had went and got
Water for Elephants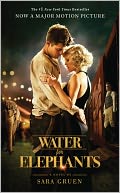 just to see what it was about and low and behold David picks it up and reads the first few pages and says "I'm getting this one!"
I was shocked!!!
So as he was sitting in bed tonight he was reading his book he purchased! I was thrilled at the same time because I wanted the book too! So I ventured off to find me something to read while he was reading it.
I found this.....
The Backyard Homestead : Produce all the food you need on just a quarter acre!
It has alot of really helpful hints etc. I know this is going to be a favorite for some time to come.
After leaving the book store we headed to the lake front to feed the birds and look at all the sail boats. It was so much fun. The weather was just right.
We also went the back way to Slidell and stopped at a few stores and then off to the house we came.
Once we got home everyone was in a cheerful mood so we did some much needed cleaning and rearranging. I love to move stuff around. It makes me HAPPY!
Well its off to bed. Church in the a.m.
Till next time~Val